From the Burren and across the fens to the Great Skellig, Ireland is dotted with little green emblems of luck. The shamrock has many meanings; luck, love, cultural pride, a ward from evil, the phases of the moon, but whichever one you prefer, these little flourishes of fauna make tight tattoos. The only question is, three leaves or four?
Three Leaf Clover
It was, of course, St Patrick who interwove the Holy Trinity into the three leaves of the shamrock. However, if you're prone to skipping mass, then the three leaves have come to represent a variety of different meanings, a popular trio being hope, faith and love.
Four Leaf Clover
The four leaf clover has an extra leaf for luck! You might have memories of hours spent trawling through clover patches in hopes of scoring a lucky spring of clover. The fourth leaf is actually just a genetic defect and the odds of finding one are 1 in 10,000, so that could take a lot of searching, and finding one leads to that time-worn phrase "the luck of the Irish!"
Whether you found one or got your knees muddy in vain, the four leaf clover is a popular tattoo.
Irish Design Tattoos
It's not just the national plant that has visual appeal, Ireland is brimming with ancient and striking symbolism. From Celtic knots to phrases in the lyrical Gaelic language, there are many variations open to personalisation when getting an Irish design tattoo – just make sure you know how to pronounce your chuisles and your larrachts before they're inked into your skin. Maybe slam them into google translate first. Or ask someone who speaks Gaelic – just buy them a round for the favour.
Inspiration Corner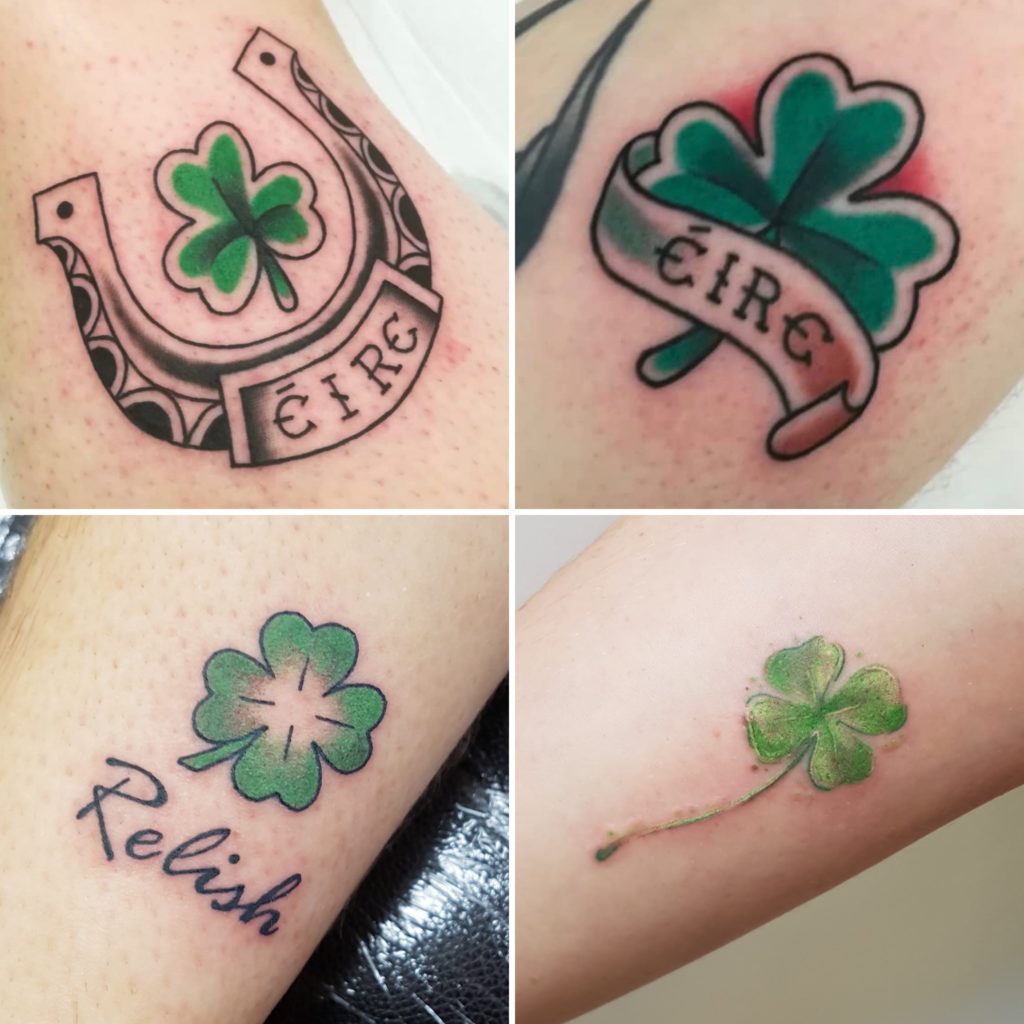 Fancy throwing a couple of shamrocks onto your skin to put a spring in your step? Here are some artist-approved design ideas guaranteed to make your next ink a knockout.
Bright colours; there's no other country in the world so revered for its lush green colour. A shamrock in bright inks is the perfect way to pay homage to the Emerald Isle.

Celtic knots; if a bright green sprig is a little too bang on the nose, then interweave the iconic shamrocks into a Celtic knot design.

Minimalist shamrock; how about a token of luck that is the actual size of an actual clover? This is a discrete holiday tattoo to commemorate a trip to Ireland; for the castle tours you remember, and the whiskey tours you don't!

Foliage tattoos; plants are our friends and they are awesome, so we will make a case for sprinkling a few shamrocks into your larger foliage tattoo. Think Bob Ross. Think happy little shamrocks.
So be it a token of luck, a ward against the coming storms or just a plant you like, a clover tattoo can become a cherished part of your Inkscape. We promise, no leprechauns or tired stereotypes here. Just gold standard artists and enduring passion for ink. Call (01) 559 8029 to book an appointment.